Yajnashala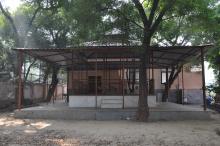 Yagnashala
Yagya means sacrifice, good deeds. The sacrifice of favorite food items and valuable aromatic nutritious substances are distributed through fire and air for the welfare of the whole world by Yagya. The place where these Yagyas are performed is called Yagyashala. A Yagyashala has also been built in the University. Various types of Bhadra Mandalas have been made in the Yagyashala for the Vedic rituals and yagyas. Like- Sarvatobhadra Mandal, Chaturbhadra Mandal, Vastu Mandal, Ekashitipad Vastu Mandal, Navagraha Mandal, Shodash Matrika Mandal, Sapta Ghrit Matrika Mandal, Kashetrapal Mandal include Yogini Mandal and various types of mandalas have been illustrated. By looking at these mandalas, the nature of mandalas in rituals can be easily understood. It can also be known that where is the place of which deity on which circle? Which side is his face and how can he be worshiped properly by chanting Vedic mantras with the help of Shodasha Upchaar.
In this Yagyashala, a wooden Yagyashala has been built for demonstration (demo). In which it is clear how the Samart Yagyashala is made and how the Yagya is performed. Such as Shatchandi Yagya, Sahastra Chandi Yagya, Laksh Chandi Yagya, Vishnu Yagya, Rudra Yagya, Laghu Rudra Yagya, Maharudra Yagya, Ati Rudra Yagya, Hanuman Yagya, Lakshmi Yagya, Navagraha Yagya, Hariharatmaka Yagya, Varun Yagya etc. The legislation can be easily explained to the students.
In this Yagyashala, study and teaching is done by the Guru-Shishya tradition, for that the Guru and the Shishya, duly sitting on the mat, wearing the corresponding clothes, costumes (Dhauti, Kurta, Uttariya etc.) sit face to face and keep the asanastha text on top of the wood pedastal, do self study. Apart from this, the practical activities are done directly in this Yagyashala. In which pictures of different types of deities are kept. Keeping the pictures of those deities in front, they are duly worshiped by the students. On this occasion, all the curiosities of the students are pacified by the Guru. How it is done in the tradition, it is also said to be authentic. This helps to remove the evils and misconceptions prevailing in society. For example- worship of Ganesha, worship of Kalash, etc., is said to be done properly, the use of worship, and the use of fire in the Kund.
Some books of the Paurohitya Department have also been stored in this Yagyashala, which can be called a Departmental library. Departmental students enhance their knowledge by studying these books whenever possible. There is also a collection of general Yagya Patra in this Yagyashala, which is seen in the Smart Yagyas.